SP Senator Eric Smaling observer at elections in Ukraine
15 January 2010
SP Senator Eric Smaling observer at elections in Ukraine
One of life's certainties is that it's always election time somewhere or other. And as a member of the parliamentary group of the Organisation for Security and Cooperation in Europe (OSCE) I have the good fortune that during my term of office as a Senator for the SP I am able to act as an observer in some of these elections. Following Albania last summer, winter sees me in Ukraine. Everyone can still remember the battered face of Yushchenko at the last presidential elections, the protests in the streets, all of this entering history as the 'Orange Revolution'. He survived it and was seen as a martyr, a hero of the nation, the one who who would put this huge country on the map.
by SP Senator Eric Smaling
It's 2010. Yushchenko is once again a presidential candidate but his standing in the polls is less than 5%. In short, something must have gone wrong in the last few years. So much promised, promises not lived up to? The people drew up a wish-list. In the top three places: work; no inflation; no corruption. A long way behind came matters such as membership of the EU.
How are things here? Arrived yesterday. Reception at the embassy, very nice, as ever. I've had a bit to do with embassies. Almost always a combination of hospitality and expertise, they invariably help you a great deal in a country where you've never been before. Ambassador very pleased with up-to-date Dutch newspapers.
Saluting the elections with the Chair of the OSCE, Jaoa Soares, son of former Portuguese president and prime minister Mario Soares
But tomorrow things will get serious: lots of information from experts, information as to what we will have to do, about the candidates – eighteen articles – and of course the question of who will actually put in an appearance. Will Yanukovich show up? Timoshenko? Yushchenko? Indeed: the usual suspects, all three of them candidates. Their programmes? Tweedledum and tweedledee, I should think, but perhaps after tomorrow I'll know more.
Friday
Today was the day of the briefings, when we were given all of the background, instructions and opinions as to how things were going and would go. Background we had of course read up on a little beforehand. Instructions: useful, but mainly if this was your first time as an observer. Views regarding how things were going: at this point everyone began to pay avid attention. Unfortunately, no sign of Yushchenko, Tymoshenko, or Yanukovych, but their representatives did appear, as did those of the other candidates. And believe it or not, almost no word from any of them about their political programmes, the people whom they were looking to anoint, the problems with which their country was faced, or Ukraine's strategic position in the region. No, they were all too busy jeering at the others, accusing them and blackening their names. Tymoshenko, it was said, had not only lied, but was also an hysteric, a characterisation typically applied to women. The mutual distrust was beyond description. Then a Swedish observer said, rather shocked, "You haven't said anything about your own plans. You only say what the others won't do well." At which point, with a slight smile, the answer came, "That's just the way it is here."
Winter street-scene in Kiev
The country's east and south are extremely pro-Yanukovych. This region has long been more orientated towards Russia than to the west. His furious representative gave us a file full of allegations against the other candidates. Our attention was drawn furthermore to each page, where in block letters it told us what we should and should not do. At the end of his presentation he invited all of the observers to come in the evening to the campaign office to raise a glass to the victory! Still, the file contained some nice reading matter. On the basis of previous elections the Yanukovych camp had gained a number of insights, and these were backed up by statistics. In districts where Tymochenko ruled the roost, for example, despite a fall in population the number of voters had risen, while there were a number of striking polling stations in which more than 90% had turned out. This, above all, had played a major role in the fraudulent elections: say the polling stations were about to close, and turnout had been 60%, so 40% of the ballots remain unfilled. You could conspire with others present, then work like crazy to ensure that your candidate has a cross marked on all of these ballots and stuff the ballot-boxes before you seal them.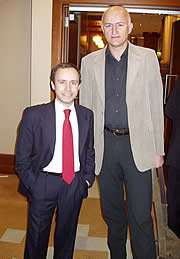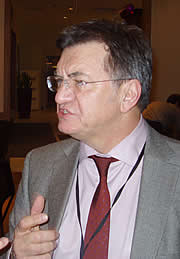 With Nuno Paixao, Portugal (left).
Petros Efthymiou, group leader of the social-democratic party PASOK in the Greek parliament
Tomorrow we travel to Charkov, a large industrial city in the north-east of the country, on the Russian border.
Saturday
After flying to Charkov in the morning, we spent the afternoon visiting the region's head and the campaign offices of Yushchenko and Tymochenko. The head of the region was good-humoured and, furthermore, candid, explaining where in his view the faults lay in the election process and giving us a brief lecture on the contemporary history of Ukraine. It boiled down to the fact that everything was bad, but that it was good that we had been invited en masse to observe the elections and that the elections, though it was true that they were boisterous, could at least be debated openly and offered a real choice. This success was something the country had achieved in the nineteen years since independence -no more than the truth.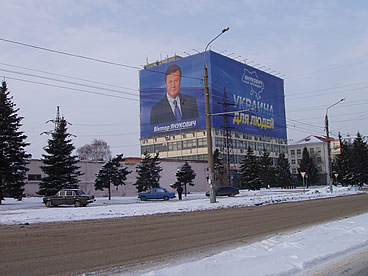 Yanukovych leaves nothing to chance
In the Yushchenko camp resignation prevailed. The incumbent president had been rejected by the people, we were told. More freedom, democracy and openness did not outweigh the endless strife with prime ministers and parliament or the mistaken choices he had made in his foreign policy. The Ukraine had so much to offer and must use its own strength as a starting point and in this way maintain friendship with both the EU and Russia. By so emphatically siding with the EU, NATO and Georgia, he had done his people no service.
The Tymochenko camp was reasonably optimistic, even though Yanukovych was ahead in the polls. If nobody wins an outright majority, then the two leading candidates will go through to a second round. Should this happen, then it was expected that Tymochenko would make up a great deal of ground because many women would then vote for her.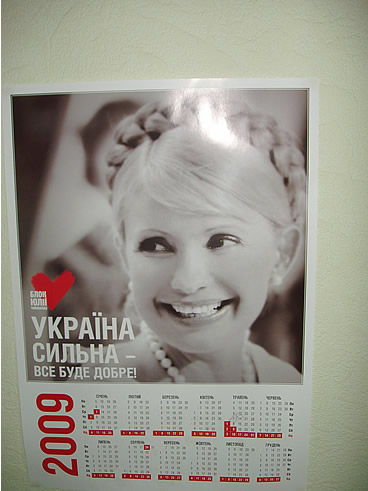 Tymochenko on a campaign calendar
Tomorrow the forecast says minus 15 Celsius. In the company of a friendly American observer who will be my partner, I will be off at 7 a.m. to visit at least ten polling stations
Sunday
For the sick and those lacking mobility the government of Ukraine had come up with the 'mobile vote'. From each polling station a group of three election workers escorted by a police officer would, in the course of the day, go to the homes of those unable to get out to vote, certainly in such cold weather. A good idea in principle from a social point of view, but the reality was that, as you did not need any proof from a doctor, the system was abused. It also became a possible source of fraud. If the three workers and the police officer agreed, they could change your vote.
This was only one of a range of potential frauds, including the danger that the ballot boxes would be stuffed after voting had ended. Yet everywhere we went there was an average of twenty election workers and at least five representatives of the presidential candidates. Such numbers alone ensured that there would be no large-scale fraud. I saw some fifteen polling stations and what struck me in each case was the passionate commitment of the chairperson and secretary. Everywhere it was their pride to make more than a half-hearted attempt to make the elections work.
The day started in a dynamic manner. All of the polling stations proved easy to find and everywhere there was a congenial atmosphere. It turned out that most approved of the fact that we were there, but to many the existence of the OSCE and the fact that it could help at elections were a novelty. So visibility was a boon, and we were never challenged to explain what we were doing there.
At eight o'clock in the evening everything was cleared away and the unused ballot papers counted. From nine until midnight the ballot boxes were emptied on to tables, counted, assigned to the candidates and counted. Thank goodness, the totals matched. From midnight until three, an enormous number of forms were to be filled in, each of which had to be signed by every worker at the polling station, the 'protocol' (the record of votes) collected and then delivered to the coordinators at their hotel.
After a short sleep we were back in Kiev. It looks as if, as forecast, a second round will be needed between Yanukovych and Tymochenko. Ukraine will probably have a familiar face in charge for another five years.
The crisis has hit the country hard, with steel production, for example, plummeting, enormous unemployment and extremely low wages. Most people earn €200 a month or less. This country has made great progress in terms of democracy and individual freedom, but at the same time corruption and nepotism remain widespread. For the old guard the changes from Soviet time to now demand a complete transformation of mentality, so it's no scandal that this should have taken twenty years. Young people, those in their twenties and thirties. seem totally ready for a modern, democratic Ukraine, but their patience is limited. For them the fact that judges accept payment to adjust their rulings is no longer acceptable. A capable, independent and incorruptible judicial power is absolutely essential for this country. Talented young people who can go elsewhere in the world are leaving, while there is so much that needs doing here.
You are here