First sighting of SP election posters: '61,6%' launching pad: ''The Netherlands wants less Brussels'
9 April 2009
First sighting of SP election posters: '61,6%' launching pad: ''The Netherlands wants less Brussels'
On Thursday in Rotterdam the SP struck the first blow in the campaign for the European Parliament elections in June. Number one on the SP list, Dennis de Jong, posted the first example of a mega-poster on which the statistic 61.6% occupied a central position. The figure refers to the percentage of Dutch voters who registered their opposition, in June 2005, to the proposed European Constitution in the referendum which rejected the measure.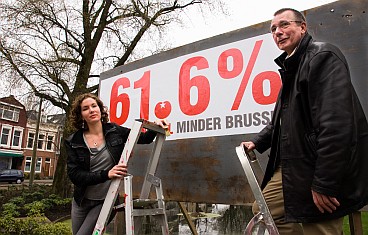 "We want people to remember the referendum on the EU Constitution that took place four years ago," says De Jong. "On that occasion they said 'no' to more Brussels. Almost all political parties have failed the voters in this, voting in favour of a Lisbon Treaty virtually identical, cover to cover, to the rejected EU Constitution. We were angered to see that there would be no new referendum on this. That's nothing more nor less than a fraud perpetrated on the voters. The Netherlands wants less Brussels, but this hasn't been respected."
The SP posters, several metres across, will be displayed throughout the country on the council notice boards currently appearing on the streets.
You are here