Secretary for EU affairs 'capitulating to Euro-idiocy'
12 March 2009
Secretary for EU affairs 'capitulating to Euro-idiocy'
Dennis de Jong, No 1. on the SP list for the approaching European Parliament elections, says that he finds it 'incomprehensible' that Secretary of State for European Affairs Frans Timmermans should play down the huge waste of money involved in the European Parliament's obligatory monthly trek from Brussels – where almost all of its real work is done – to Strasbourg, its purely symbolic seat, where roughly every four weeks it is forced to hold its plenary meeting. Timmermans expressed the view yesterday that this monthly circus should not distract us from recognising how much useful work the European Parliament does. "This is the latest of numerous proofs of the Dutch government's flabby attitude to Europe," De Jong says.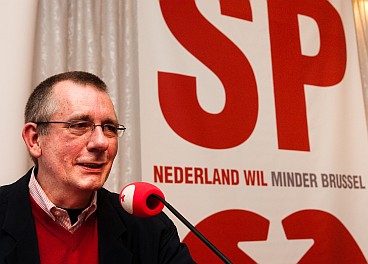 De Jong was recently chosen as Number 1 on the SP's list for June's European elections.
"Timmermans shouldn't be sweeping this absurd business under the carpet, not when it costs the taxpayer a minimum €200 million," De Jong added. "He should be condemning it, in fact. This is a common complaint amongst the Dutch people, and one which is entirely justified, especially as we are the biggest net payer to the EU. By capitulating before this Euro-idiocy, Timmermans is demonstrating how weak his government in the face of EU wastefulness."
The European Parliament has itself demanded an end to this absurdity, but does not have the power to determine where it conducts its own business. To change the current statute, which requires it to hold at least twelve meetings per year in Strasbourg, a unanimous vote of the member states is necessary. Each trip to Strasbourg, involving hundreds of MEPs, thousands of staff, and megatons of paperwork carried in a fleet of pantechnicon, costs the EU taxpayer €250 million per year. The fact that the Parliament is powerless to change this, De Jong says "is an indicator of its lack of power."
You are here