Van Bommel: Timmermans 'speaks with forked tongue' on European government
12 February 2009
Van Bommel: Timmermans 'speaks with forked tongue' on European government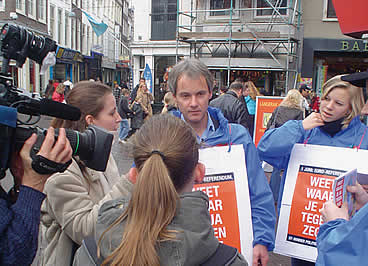 Van Bommel in 2005, during the successful campaign against the European Constitution.
SP Member of Parliament Harry van Bommel describes himself as "astonished" by the statement by Secretary of State for Europe Frans Timmermans that the European Council, which directly represents the 27 member states' governments, is developing into a "sort of true European government". Timmermans made the statement while out of the country. In the Netherlands itself, he has repeatedly and in every possible manner denied that the European Union is becoming a European state. "He speaks with forked tongue," says Van Bommel, SP spokesman on European Affairs. "When he's abroad he says one thing, and when he's in his own country he says another."
"In the Netherlands Timmermans says that he learnt from the referendum on the European Constitution, when the Dutch people said a massive 'no' to a European superstate," says Van Bommel. "When he's abroad he acts as if the people's mistrust has disappeared, and now he is even talking in terms of a 'European government'. But the people of the Netherlands continue in fact to be unfavourable towards the idea of a European government. People would rather have less interference from Brussels than more. Timmermans should be giving an honest account of the Dutch people's views when he's outside the country."
Van Bommel is demanding an explanation from the Secretary of State, and in writing.
You are here