Dennis de Jong will head SP list for European elections
21 February 2009
Dennis de Jong will head SP list for European elections
The Party Council of the SP today nominated 53-year-old Rotterdam-based Dennis de Jong to head its list for June's European elections. "The Netherlands wants less interference from Brussels, and the best way to achieve this is by having more SP Euro-MPs there," he said, in his address thanking delegates for their support.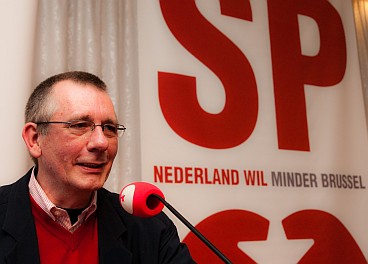 The SP's highest decision-making body, the Party Council, confirmed De Jong's nomination at its quarterly meeting in Amersfoort today. A member of the executive of the party's Rotterdam branch, De Jong works at the Ministry of Foreign Affairs as a special advisor on human rights and governance.
"European cooperation should give all of us a pleasant feeling of security, but often the opposite is the case," said De Jong in his speech. "Many people have come to the conclusion that a bit less Brussels and a bit more control over our own affairs are what is important.
"The unpopularity of Brussels is not the fault of the people, but of Brussels itself! There is only one direction: more Brussels. You give an inch, and Brussels takes a mile. You give a mile and... Step by step we are seeing ever more Brussels and ever less Netherlands. And this is achieved by stealth, so that we have no say in the matter. This is in complete contradiction with our idea of democracy."
The campaign slogan, presented by De Jong, will be "The Netherlands wants less Brussels".
The Party Council, which is made up of the chairs of every SP branch, also confirmed the party's manifesto for the European elections. The aim is to double the current representation, from two members to four.
You are here