SP supports action to maintain EU milk quotas
17 November 2008
SP supports action to maintain EU milk quotas
SP Members of Parliament Hugo Polderman and Krista van Velzen today expressed their support for the Dutch Dairy Farmers' Union (NMV) and the Dutch Dairy Board in their action to demand the retaining of EU milk quotas. Both MPs received a special 'thank you' from the organisations, the SP being the only political party which backed the farmers.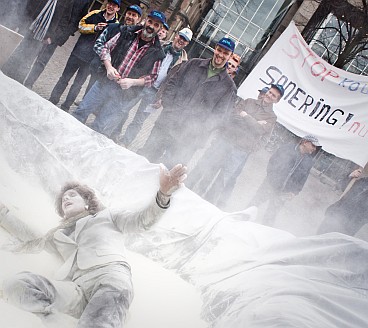 Polderman addressed the demonstration: "We are pleased that you are demonstrating on the Plein (the square outside the parliament building) in favour of what we have for years tried to make clear in parliament – that liberalisation and the one-sided focus on the world market is a disastrous course. The SP argues, just as you are doing, for the maintenance of the milk quota, market regulation and a price for milk which covers the costs of production."
The activists dropped an effigy of farm minister Gerda Verburg, but gave her a soft landing in a bath of powdered milk, a reference to her own claim that she would ensure a 'soft landing' for dairy farmers when the quota system was abolished. "Giving up the milk quota system will mean many small firms will be sentenced to death," said Hugo Polderman. "The soft landing of which Verburg talks is in reality going to be an extremely hard landing, one which will lead to widespread bankruptcies amongst family farms. And without a fair price, moreover, the sustainable and animal-friendly farming which Verburg claims to want to see will be impossible. After all, no farmer can meet such higher standards for the low and unstable price which is set by the world market."
You are here