Stop import of crops grown on stolen land
21 October 2008
Stop import of crops grown on stolen land
The Netherlands must stop buying products grown on stolen land. So say SP Members of Parliament Krista van Velzen and Paulus Jansen, following their meeting with a delegation from the indigenous Guarani-Kaiowa community from the Brazilian state of Mato Grosso.
This community was violently driven from its lands to enable large-scale soya and sugar cane production. Not only is it no longer possible for them to make a living from their own land, pollution resulting from industrial agriculture has made fishing impossible.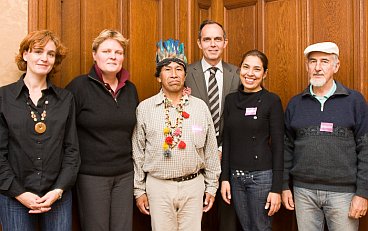 Krista van Velzen (2nd left) and Paulus Jansen (3rd right) stand either side of a member of the Brazilian Guarani-Kaiowa community
"Increasing cultivation of soya to feed our pigs and sugar cane as a source of biofuel is being done at the cost of lands on which food is grown for local consumption," says Van Velzen. "Because the original population can no longer grow its own food, the authorities are handing out food packages. These last only a week, however, after which people are forced to find poorly paid work on the new plantations. More than 40% of the Brazilian population is in the meantime undernourished."
Van Velzen adds that "The Brazilian government has a constitutional duty to give stolen land back to the original population, but does nothing about this. We should therefore no longer be importing the products of such land. You could almost say that anyone who buys this soya and sugar cane is in fact receiving stolen goods. I call on the Dutch government no longer to buy or allow the import of these products and to bring pressure to bear on the Brazilian government to keep its promise and give back the land."
The SP has long argued for a moratorium on the import of biofuels from unsustainable sources. .
You are here