SP development spokesman addresses Somalian demonstration
27 June 2008
SP development spokesman addresses Somalian demonstration
SP Member of Parliament and spokesman on development issues Ewout Irrgang spoke on Friday at a demonstration by the Somalian community in the Netherlands. The demonstrators, gathered in front of the national parliament in The Hague, were calling attention to the tragic humanitarian situation in their country of origin.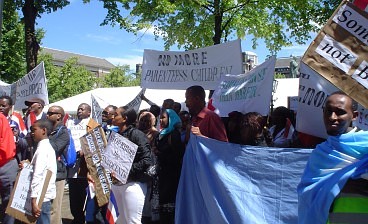 Somalians demonstrate on "Het Plein", the square in front of the Netherlands' Parliament in The Hague.
According the United Nations' High Commissioner for Refugees, Antonio Guterres, the world's biggest current humanitarian catastrophe is to be found in Somalia. The war between the transitional government, supported by Ethiopian troops, and the Islamicist opposition is costing the lives of thousands of victims. Hundreds of thousands of people have been forced to flee and large parts of the capital, Mogadishu, are deserted. Hunger is leading to mass malnutrition and violence is making the delivery of foodstuffs extremely difficult. Yet news about Somalia is sporadic, as journalists also fear for their lives there.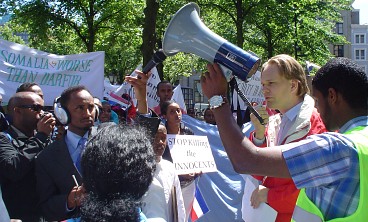 Ewout Irrgang addresses the demonstrators.
The US-backed Ethiopian invasion at the end of 2006 made what was already an extremely bad situation worse. In addition to those committed by the opposition, Ethiopian troops and the transitional government are also, according to Human Rights Watch, guilty of war crimes, including the bombardment of residential areas and the summary execution of civilians.
"The Dutch government must be much more critical of the US and Ethiopia," Irrgang said. They must demand a definite timetable for the withdrawal of Ethiopian troops. The EU is the biggest donor of funds to the non-functioning transitional government." Development Minister Bert Koenders, Irrgang added, "must argue at EU level for the immediate ending of subsidies to the transitional government."
A number of war criminals from both sides, the Islamicist opposition and the transitional government, possess passports from European countries. Irrgang has asked the government to look into rumours that a number of these passports are Dutch and what possibilities exist for their holders to be prosecuted in the Netherlands.
You are here