Congratulations delivered to Irish Embassy
2 June 2008
Congratulations delivered to Irish Embassy
SP Members of Parliament Harry van Bommel and Sharon Gesthuizen were at the Irish embassy today to offer their written congratulations to the ambassador on his country's holding of a referendum on the Lisbon Treaty. The Irish are the only member state to offer voters the chance to express their views on a treaty which is almost identical in content to that rejected by the Dutch and French electorates three years ago.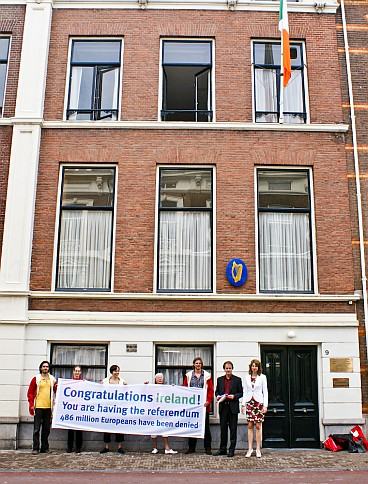 SP members, including MPs Harry van Bommel and Sharon Gesthuizen (both on far right of picture), outside the Irish embassy in The Hague
The referendum in Ireland will be held on 12th June, and promises to go to the wire. Polls currently say that of those intending to participate, 41 percent will vote for and 33 percent against, but this leaves a massive 26 percent undecided, and everything to play for.
The demonstration in The Hague was one of a number taking place in various European capitals. They were coordinated by the European Referendum Campaign, an independent network of groups demanding a say for Europe's citizens.
You are here