New debate to be held on Netherlands' support for attack on Iraq
13 February 2008
New debate to be held on Netherlands' support for attack on Iraq
SP Member of Parliament and foreign affairs spokesman Harry van Bommel will get another opportunity to debate with Premier Jan Peter Balkenende over the war in Iraq. Van Bommel asked for the debate on Tuesday, having found the answers to his questions on a research report into the matter unsatisfactory. The enquiry on which the report was based found that senior American officials lied about the presence in Iraq of weapons of mass destruction (WMDs).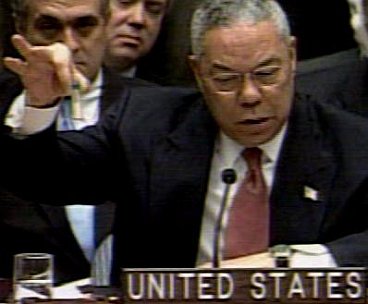 Then US Defence Secretary Colin Powell lied to the UN Security Council about the presence of WMDs in Iraq.
Parliament has already held more than ten debates on the attack on Iraq and the Dutch government's support for it. What has prompted this renewed debate is a US report in which it is stated that American officials had lied regarding the presence of WMDs in Iraq, or about links between the Iraqi regime and Al Qaida, on 935 occasions. In 532 of these instances, President Bush and Vice-President Cheney themselves were involved in conveying untruths.
Van Bommel recently put several written parliamentary questions to the cabinet regarding this report. In answer to these, Foreign Minister Maxime Verhagen said that the report changed nothing as far as the government's standpoint was concerned – the attack on Iraq was justified. The report's conclusions were entirely the views of the researchers, the minister claimed. Van Bommel says that he finds the government's attitude incomprehensible. "The evidence that the attack on Iraq was based on incorrect and indeed fabricated information keeps mounting up. And yet the cabinet continues to refuse to accept responsibility regarding the support it gave to the Americans and British, or to authorise an enquiry. That's why we're having another debate."
No date has as yet been fixed for the debate.
You are here