Punish war criminals - but give the innocent a better future
18 January 2008
Punish war criminals - but give the innocent a better future
The Union of Afghan Associations (UAV) demonstrated in The Hague on Friday against the Dutch government's policy of declaring certain refugees to be guilty of war crimes, without first allowing them a trial. Giving its full support to the demonstration, the SP was represented by, amongst others, Member of Parliament Sadet Karabulut, who addressed the crowd which gathered in front of the national parliament building.
"The government has for ten years been sticking its head in the sand and creating an ever-growing problem," said Karabulut. "An ever-increasing group of people finds itself with no right to work and no right to medical care. This must be ended. You can't just close your eyes to the problem and allow people to live their whole lives as 'illegal'. It isn't for nothing that organisations such as the United Nations Human Rights Council, Amnesty International and Defence for Children have for some years been concerned over the consequences of this policy. Of course people proved to be responsible for war crimes should not be treated as refugees, but the guilt of the person in question must first be established by the courts. That's how things work in a state ruled by law, such as the Netherlands. If the government holds someone in suspicion then they should proceed accordingly, prosecute them and ask the courts to confirm their guilt. This isn't happening, and that's not good."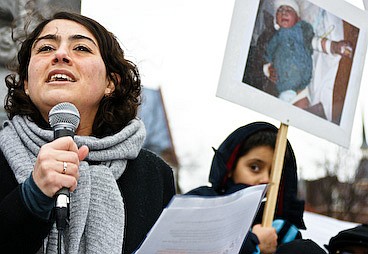 SP Member of Parliament Sadet Karabulut addresses the demonstrators
This month a letter was presented by the Minister of Justice outlining the government's position. In the SP's view, this letter forms the basis for a renewed discussion on how the Netherlands should deal with people declared undesirable as a result of alleged war crimes, a problem to which the SP is anxious to find a solution.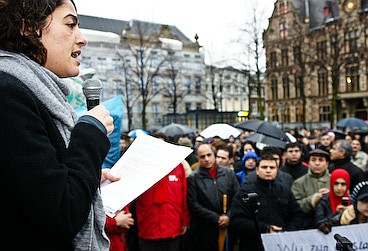 "The solution is not that we do nothing about war criminals. But it isn't either that we should declare people to be guilty without a trial, without due process. A situation in which people are neither admitted nor deported is, moreover, inhumane. The SP will, in the planned debate, be making concrete proposals aimed at bringing about a humane solution. A new and enforceable official policy, more effort to prosecute war criminals and a separate ruling for women and children related to alleged war criminals if they are being considered for residency permits. Punish the guilty, but give the innocent a better future."
You are here