Farshad Bashir becomes new SP Member of Parliament
15 January 2008
Farshad Bashir becomes new SP Member of Parliament
The twenty-year old son of Afghan refugees, Farshad Bashir from the city of Leeuwarden was installed this afternoon as a Member of Parliament for the SP. A student of physics, he will be both the youngest ever member of parliament's main legislative chamber, and the first MP of Afghan origin. .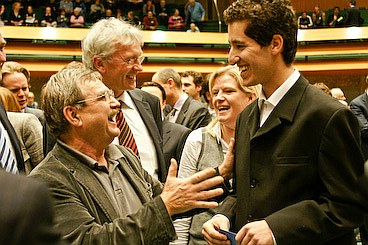 The oldest SP Member of Parliament, environment specialist Remi Poppe, congratulates the youngest ever MP from any party. Departing MP Rosita van Gijlswijk is in the background.
Farshad Bashir is the child of Afghan refugees and has lived for ten years with his parents in Friesland in the north of the Netherlands. He joined the SP at the youngest age permitted, 14, and became active in the party's youth organisation, ROOD (RED). At the recent local elections he was elected to Leeuwaarden's town council, combining his duties as a councillor with his studies of physics.
Bashir was number 25 on the SP list for the parliamentary elections and, under the Dutch electoral system, became elgible to take a seat when a sitting SP Member stood down. The vacancy came about when Rosita van Gijlswijk was elected by the SP Party Council to the post of treasurer. Running the finances for an organisation with over 50,000 members and hundreds of elected representatives at every level of government being very much a full time job, Van Gijlswijk has resigned as an MP.
You are here