Open borders make increase of inhuman living conditions a certainty
26 March 2007
Open borders make increase of inhuman living conditions a certainty
"The number of foreign workers living under inhuman and life-threatening conditions will grow if the government abolishes the work permit system." That is the conclusion drawn by SP Member of Parliament Paul Ulenbelt following a tour of a number of neighbourhoods in Den Haag led by workers from the local authority's building and accommodation inspectorate.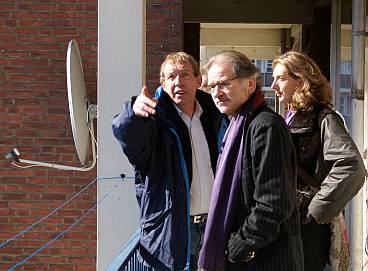 As things stand an employer wanting to hire workers from central or eastern Europe is obliged to report to the public authorities, in the form of the Centre for Work and Income (CWI), as to where they are housed. The CWI then passes this information on to the relevant local authority, which checks the living conditions and fire safety standards and, in the case of overcrowding, will close the premises in question down. According to checks done by the local authority building and accommodation inspectorate, in fully half of the instances living conditions were inadequate, while in a third the conditions were so extreme that the only solution was immediate closure. Every year, people die as a result of carbon dioxide poisoning. "They showed me a small flat in which every room, the cupboard under the stairs and even the outhouse were full of mattresses," says Paul Ulenbelt. "Twelve people were living there. The apartment was plainly overcrowded. Everything had been left just as they found it."
Mattress in the stairwell
The local authorities of The Hague and other large towns are convinced that the work permit system must continue. Otherwise, they say, they will lack any means of control. Their obligation to report to the CWI gives them the means to investigate the housing conditions of foreign workers. Should this no longer be required, they would no longer be able to look into the malign circuit of illegally rented rooms and apartments. The four biggest Dutch cities – Amsterdam, Rotterdam, Utrecht and The Hague – have written to parliament asking that Social Affairs Minister Piet Hein Donner maintain the work permit system and refrain from fully opening the borders.
Sleeping in a shed
The SP has campaigned for some time against the opening of borders, in part because of the inhuman treatment meted out to foreign workers. "Foreign workers are doubly exploited," Ulenbelt says. "at work and at home. They are often underpaid and forced to work long hours, and then they have to pay 200 euros per week for a mattress. Ten of them paying that in an apartment which would normally fetch 350. Tally up the profit from that. The apartments are often owned by the employment bureau that also finds them the work."
The SP is urging the Minister for Social Affairs to maintain the work permit system and oblige employers to provide reasonable housing for foreign workers. Employers who abuse the system should be excluded from receiving work permits for employees.
You are here