Dead European Constitution returned to Brussels by rocket bike
1 June 2006
Dead European Constitution returned to Brussels by rocket bike
Precisely a year after the Dutch people voted to say 'No' to the European Constitution, members of the SP cycling team took the rejected document on a symbolic journey back to Brussels. Member of Parliament and European affairs spokesman Harry van Bommel, leader of last year's No-campaign, accompanied it this morning on the first stage of its journey. "The European constitution was declared dead by the Netherlands and France," said Harry as he set off from The Hague, "but numerous people in Brussels continue to insist on trying to resuscitate it. We want to make it clear that the 'No' wasn't some kind of take-it-or-leave-it advice, but a solid rejection of the EU's present appalling direction."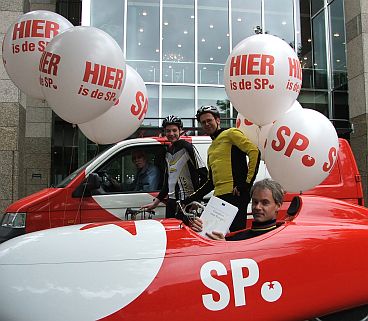 At half-past nine this morning on the sqaure in front of the national parliament building in The Hague, the starting pistol was fired for the bicycle estafette. Harry van Bommel was the rider for the first leg of the journey by aerodynamic rocket bike from The Hague to Brussels, accompanied by members of the SP cycling team. The team took over for the rest of the course, the rocket bike going with them. Their destination was the headquarters of the Permanent Representation (to the EU) of Austria, the country currently holding the EU Presidency, a position which it is using to promote a reopening of the debate on the Constitution. SP Euro-MP Kartika Liotard would there return the constitution and ask the Austrians to give up their efforts to raise the dead.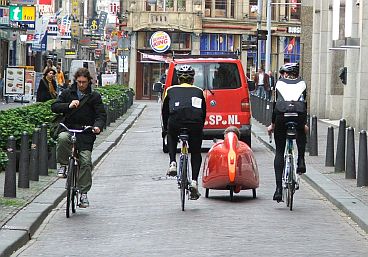 Back in The Hague, Harry van Bommel was at the same time set to argue the same point. "We were told that there would be a pause for thought of a year. That year is now up. It's high time that a decision was taken on just what Europe should mean. Our view is that we do not want a European superstate but a European Union which limits itself to matters which can only be resolved at European level. Everything else should be left to the member states."
When the cycle team arrived in Brussels around four o'clock, Kartika Liotard was waiting for them. Kartika and the cyclists then proceeded to the Austrian Permanent Representation and symbolically returned the proposed constitution, asking its stubbornly fanatical fans to stop their uncalled for attempts to breathe life back into the document. No means Nee means Non means Nein, in English, French, Dutch or German. A spokesman for the Austrians said that he recognised that the SP had a point and that he would pass the message on to his country's Permanent Representatives, senior civil servants who take care of Austrian interests in Brussels.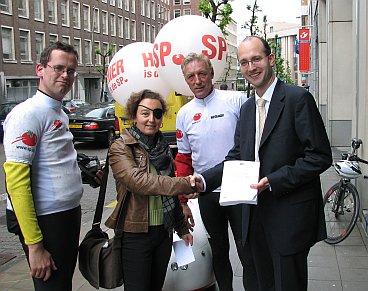 You are here