Demonstration addressed by SP's Jan de Wit: 'Stop the abuses before you open the borders'
12 April 2006
Demonstration addressed by SP's Jan de Wit: 'Stop the abuses before you open the borders'
"It is irresponsible to open the borders fully to workers from the new EU member states, whether on May 1st or January 1st," said SP Member of Parliament Jan de Wit today when addressing the demonstration whose slogan was "Equal work, equal pay". An unmanaged influx of labour from the new member states will result in disruption of the labour market, he said, with Polish workers suffering exploitation, and Dutch workers and small businesses forced out of the market. The labour market will become a Wild West with workers forced into cut-throat competition.
Jan de Wit is interviewed by Henk van der Kolk, leader of the FNV, the main Dutch trade union federation
The 'no' to the European Constitution was also a 'no' to headlong liberalisation of the international labour market and the unfair competition which is its consequence. As Mr De Wit put it, "The borders must not be opened further at this time. The problems would then become still greater. First of all new measures must be taken which guarantee equal pay for equal work, and thereby honest opportunities for our youth."
The SP position was supported by the thousand or so demonstrators gathered in the square in front of the national parliament. The organiser, "FNV Bondgenoten", which brings together trade union activists from many different sectors, called on the legislature to reject the proposal to complete the opening of borders on May 1st or January 1st.
Equal work, equal pay!
De Wit: "First of all we need in the Netherlands to tackle the issues involved, take action against illegal work, guarantee that Dutch and foreign workers will receive equal pay for equal work and get people who are out of work, including those with a disability, into jobs . We also need to think of our children and young people who are being trained to take up trades in building, manufacturing industry and the transport sector. We need more time to tackle this. Let's regulate the situation and then in 2009 look again to see whether we have made sufficient progress to allow further steps towards open borders to be taken."

Around a thousand people took part in the lunchtime protest
The SP proposes the establishment of an authority to ensure the observance of collective labour agreements (which in the Netherlands cover most workers in most sectors) where necessary by enforcement. This would mean that everyone would receive the same pay for the same work, and that other agreements were respected. Overdue or underpaid wages, unpaid overtime, holiday pay, bonuses and pension premiums paid on the employee's behalf would be recovered and paid to the worker. Miscreant employers should be given stiff fines. Employers, self-employed people and workers should be able to report evasions of collective labour agreements to this authority.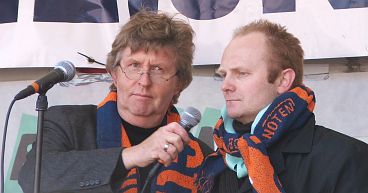 Polish worker tells of his experience of abuses and exploitation
The SP further believes that employers who take foreign migrant workers into service should be obliged to ensure that they have decent housing which comes up to Dutch standards. Workers should be able to understand sufficient Dutch to ensure workplace safety. Self-employed people working in building, horticulture, transport and similar sectors must fulfil the requirements of the relevant labour laws. They must be fully insured and able to demonstrate that possible damage will be compensated by an insurer in the Netherlands. The requirement that temporary employment bureaux must apply for a permit should be restored, and these should be further required to deposit a guarantee of €100,000 which will be forfeited should they breach the law or fail to respect a collective labour agreement.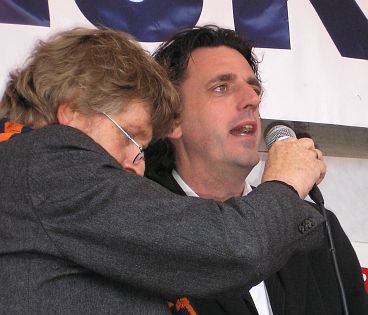 Ed Van der Sande, Member of Parliament for the right-wing liberal VVD party, wants to see the borders thrown fully open straight away. His views were greeted with boos and whistles.
Everyone looking for work in the Netherlands must be fully informed of his or her rights and duties, in writing, and this information should include addresses and telephone numbers to which people can go with questions and complaints. Councils should ensure not only that the specifications in planning permits for new buildings are adhered to, but also that construction proceeds in full respect of the norms and standards for working conditions and conditions of employment.
SP aeroplane flies over the square: "Equal work, equal pay!"
Brussels, and Balkenende's government in The Hague, want to see the borders fully opened on January 1st. Their intention is to force down wages and undermine workers' rights. The SP says no to unlimited exploitation and unfair competition. "The Netherlands must combat the excesses resulting from free movement of workers and the self-employed," said De Wit "If the EU will not make room for this, then the treaties which make such abuses possible must be abrogated."
You are here