Van Velzen hands over 100,000 appeals to Canadians to end slaughter of seals
16 March 2006
Van Velzen hands over 100,000 appeals to Canadians to end slaughter of seals
SP Member of Parliament and Environment spokeswoman Krista van Velzen yesterday went to the Canadian embassy to present a petition containing 100,000 signatures calling for an end to the hunting of seals,. The signatures were collected by the seal crèche in Pieterburen and the anti-fur organisation "Bont voor Dieren" (Fur is for animals). A group of activists from both organisations gathered in front of the embassy in order to voice their opinion loud and clear, an opinion shared by the vast majority of the Dutch population: the hunting of seals must stop.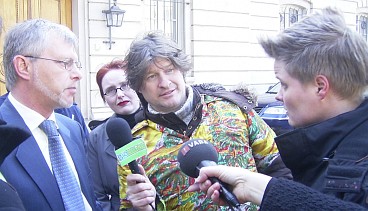 David Gill in conversation with Krista van Velzen
Ms Van Velzen said that the group had been "received by an extremely nervous David Gill, a spokesman for the Canadian embassy. He tried to convince us that the seal hunt was carried out in a very 'humane' fashion. I saw last year with my own eyes how seals are hunted and humane is the last word that I would want to use to describe it."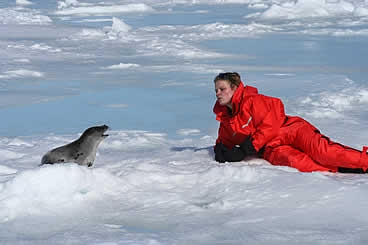 Krista van Velzen in Canada
The Canadian fisheries ministry announced this morning that 350.000 seals could be slaughtered this year, well up from last year's total of 300.000.
You are here