Europe happy hunting ground for spies
2 March 2006
Europe happy hunting ground for spies
Europe is a happy hunting ground for foreign espionage services, and the existing rules in European countries make it difficult to combat their activities. It is difficult to discern whether European airspace and European airports are being used for the illegal transport of prisoners. So argues Terry Davis, Secretary General of the Council of Europe, in a report published today.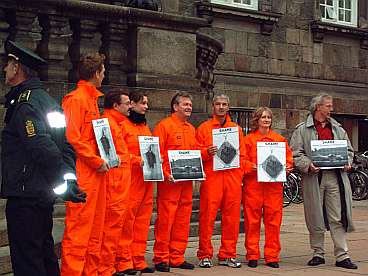 Copenhagen. Demonstrators in last year's protest against the CIA's secret transport of prisoners. (Tiny Kox, right)
SP Senator Tiny Kox, a member of the Parliamentary Assembly of the Council of Europe (PACE) said that he was impressed by Terry Davis's report, which had revealed that information on the misuse of European airspace and European airports by foreign espionage services was inadequate. "The Secretary General has, by dint of powers invested in him by the treaty, the right to demand information on national rules and procedures from the Council of Europe's member states. He exercised this right in attempting to gather more information regarding the possibility that the CIA, in cooperation with the secret services of certain European countries, used civil aircraft and airports to transport prisoners of the US war on terrorism to and from illegal prisons where they can be treated more harshly than American or European law would permit."
Human Rights Watch considers, on the basis of information available to them, that illegal detention camps exist or have existed in, amongst other places, Poland and Romania, and believes it possible that prisoners have been subject to torture in these camps. As Senator Kox says, "The US government denies everything, but this doesn't sound all that convincing. It is certain that there was cooperation with European secret services and a large number of undisclosed flights from Afghanistan and Guantanamo Bay via European airports." Schiphol was amongst those used, as is clear from the government's response to parliamentary questions put by SP member of Parliament Harry van Bommel, though Foreign Minister Ben Bot has not gone so far as to confirm that the CIA has used Amsterdam's airport in the transport of prisoners.
Meanwhile pressure is growing on the Americans to close the illegal prison camp at Guantanamo Bay. Even British Prime Minister Tony Blair, loyal disciple of George Bush and his war on terrorism, seems to have come round to this view. The Dutch government has already adopted the same standpoint, following interventions from Socialist Party MPs and Senators, as well as many others from different sides of the two houses of the Netherlands' parliament. The question is whether the closure of Guantanamo would also mean the end of illegal prisons per se. There are growing indications that the Americans are in the process of moving such prisons to Afghanistan, while countries such as Egypt have also been repeatedly mentioned in this context.
The lower house of the Dutch Parliament (the equivalent of the British House of Commons or the US House of Representatives) has put a large number of questions to Mr Bot regarding the secret CIA flights and detention centres, while the European Parliament is also conducting an enquiry. PACE, which was the first to take the initiative and investigate rumours of CIA flights and camps, has already published several reports, which can be found at www.assembly.coe.int. Secretary-General Davis is now concentrating his efforts on those countries which have given unsatisfactory or incomplete information, drawing their attention to their obligations under the treaty.
You are here