SP in Drenthe is fighting for local autonomy – against Brussels, too
25 February 2018
SP in Drenthe is fighting for local autonomy – against Brussels, too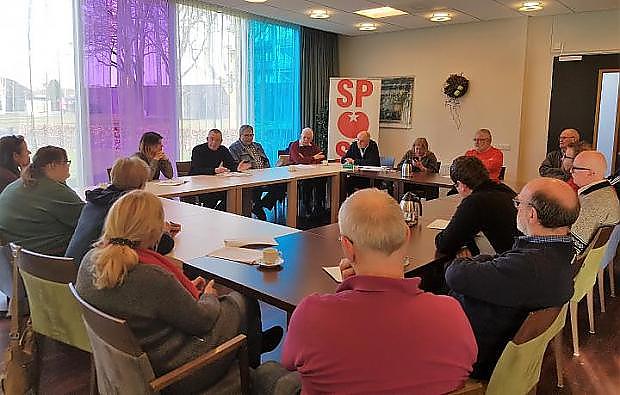 It was an inspiring afternoon last Friday in Emmen in the north-eastern province of Drenthe where, with local SP members, we went through the new rules which are in preparation on submitting municipal and provincial regulations to Brussels. People in Drenthe ('Drentens') are attached to the idea of local autonomy, but the European Commission is concerned to monitor everything which might interfere with the free movement of services in the single market. This is far-reaching and would affect everything from zoning plans to kindergartens to the design of shopping streets. As one of the participants said, "in that case we might as well wind up the town council." So it's time for action, something for which the SP in Drenthe is well-equipped.
Just as in Groningen, earthquakes have been felt in Emmen, a result of drilling for gas. In addition, people in the so-called Veenkoloniën ("peat colonies"- settlements which came about when people were drawn to the area because there was work there extracting peat from the moor) in both provinces have to contend with extremely high windmills. These are good for the production of renewable energy, but annoying for local residents who, having been given no say over where the windmills should be located, are afraid of their height and whether they are safe, quite apart from potential noise. It's no wonder that in the north of the Netherlands people are so attached to local autonomy. They want as far as is possible to take charge of these matters, and they're absolutely right.
This isn't how the European Commission sees things. The aforementioned submission procedure, under which rules that could possibly restrict the free movement of services in the EU must be submitted to the Commission, can take three to six months, during which time the measure may not be adopted. This seems wholly abstract, but could have major consequences for shops, the self-employed, and for the establishment of firms, to name but a few possible issues. If you want to put an end to a situation in which you have too many telephone shops, because you suspect that these are being used to launder money, this would be seen as a restraint on the free movement of services. Nevertheless, a majority in both the European Parliament and the EU Council of Ministers approve of the plan. In a few months negotiations between the two bodies will probably be complete and two years after that the EU directive must be taken into national law by all member states. Time is therefore pressing, which is why the SP in Drenthe is looking for allies from other parts of the Netherlands. Fine people, these Drentens!
You are here