Anneke Wezel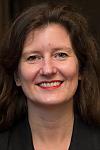 Biography
In addition to her duties as a Senator, Anneke works as a social lawyer and for the SP helpline in Amsterdam and Zaandam. She was previously an Officer of Justice in the Public Prosecutors' Office and led investigations, including into cases of fraud.
I became a member of the SP because I could no longer look on sorrowfully while the welfare state was more and more broken up. So the SP's credo really attracted me:

Don't stay sulking on the sidelines,
Take action and show your courage
Let your anger go hand in hand
With the good that you do
In the Senate Anneke has responsibility for judicial affairs, asylum and public health.  
You are here