The SP in the European Parliament
Since the European elections of 1999 the SP has been represented in the European Parliament. The SP forms part of the Confederal Group of the European United Left / Nordic Green Left, the GUE-NGL (see the GUE-NGL's own website), the fifth largest EP group with 52 members from 13 member states.
Dennis de Jong (1955) has been leader of the SP's representation in the European Parliament since June 2009. "What links together all the aspects of my social and political life? Standing up for people suffering oppression." Migration, human rights and corruption are therefore often found in his resume.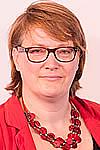 Anne-Marie Mineur (1967) is a language technician. In 2006 she was elected to the local council in De Bilt, where she was also a member of the municipal audit committee. In 2009 she became SP branch chair in De Bilt and in 2011 chair of the SP group in the Provincial Assembly of Utrecht.
You are here